"When Michael and I first decided that we didn't want to have a traditional wedding, we really had no idea where to begin. Our main goals from the beginning were that we wanted to have fun and we wanted to do something entirely new. If we were going to get married, we wanted it to be an experience.
A brief search on Instagram lead us to Rosemary & Pine and it was the best thing that could've happened. From the beginning, Tatiana was super attentive to our concerns, especially since we were traveling from California to Washington and wanted to get married in the snow in May! She was always on top of it and even scoured out good spots before the day we got married.
On the day of, Tatiana and her husband, Simeon, showed up right on time. They were super prepared, which I appreciated since I had no idea what I was doing, and, above all, great people to be around. I even borrowed a dress from Tatiana to get married in! The hike up to where we wanted to get married was really fun with them, too. Although we were hiring photographers, it was also really important to us that we also enjoy their company on our special day.
A few weeks later when we received our photos, we were in awe. They came out even more beautiful than we could've ever imagined. We are so grateful that we not only got the great photos we were hoping for to share with family and friends, but that we had one of the best experiences of our lives too."
"Tatiana was a joy to work with! She is very easy to get along with and made my husband and I feel really comfortable. We had a great time and it hardly felt like we were taking photos but more like we were hanging out! We were so impressed with the photos we got back- she is so creative and we loved them all!"
"Tandy and her husband were both so welcoming from start to finish. They made both Ben and I feel super comfortable and included the both of us instead of just focusing on one or the other. The whole shoot was so much fun and even though it was freezing and POURING, we kinda didn't even notice. It was like those scenes in movies where people are soaked in a second and you think, 'that doesn't even happen.' Oh, it happens!
Tandy made it so easy to just enjoy our time and love on each other while getting AMAZING photos. We didn't feel nervous or weird in front of the camera. Which says a lot coming from a fellow photographer used to being behind the lens. Then came the vow renewal. Even as I write these words I tear up at just how special and needed this day was for us. This vow renewal came at the perfect time in our marriage. It was so healing and refreshing to be able to remind each other of our love and commitment and to remind ourselves why we're doing this crazy thing called marriage. Marriage is hard work but so worth it, so it was such great experience to acknowledge and celebrate where we've been and get excited for where we're going! Thank you thank you thank you to Rosemary & Pine and all the other vendors who made this day so incredible. We will remember it forever!"
"Tatiana went above and beyond for my man and I. She not only captured beautiful moments but one of the most epic moments of our lives, the proposal! As one who dabbles in photography myself, I was blown away by Tatiana's work on our shoot! She is easy-going and definitely someone who's up for anything, anytime. If you're madly in love and love a little adventure, definitely take Tatiana on as your photographer to capture the most precious moments between you and your loved ones. I can't wait for her to capture our big day coming soon!"
"MY HUSBAND AND I NOT ONLY HAD AN AMAZING EXPERIENCE WITH TANDY, WE WERE ALSO BLOWN AWAY WITH THE PHOTOS WE GOT BACK! SHE HELPED GUIDE US SO THAT WE DIDN'T LOOK OR FEEL STIFF AND HER DOWN TO EARTH PERSONALITY MADE US FEEL SO COMFORTABLE. HER PHOTOGRAPHY NOT ONLY CAPTURES A BEAUTIFUL PICTURE, BUT A FEELING OF THE MOMENT. WE WILL TREASURE THE MOMENTS SHE CAPTURED FOR US, FOREVER."
"ROSEMARY AND PINE WAS SUCH AN HONOR TO WORK WITH. NOT ONLY DID OUR PICTURES TURN OUT BEAUTIFUL, BUT SHE MADE US BOTH FEEL VERY COMFORTABLE IN FRONT OF THE CAMERA, BRINGING OUT OUR GOOFY SIDE AND OUR CHEESY SIDE - YOU COULD SEE GENUINE EMOTION! SHE WAS VERY QUICK TO DELIVER AND WE RECEIVED A LARGE SELECTION OF PHOTOS. I WILL TREASURE THESE FOREVER! HIGHLY RECOMMEND, ESPECIALLY TO THOSE WHO WANT TO CAPTURE THE BEAUTY OF THE OUTDOORS (THE BEACH WAS A GREAT SPOT)!"
"HAVING OUR PHOTOS TAKEN BY ROSEMARY & PINE WAS A BLAST. WE FELT SO FREE TO BE OURSELVES AND JOKE AROUND AND JUST HAVE AN ENJOYABLE, RELAXED TIME!! SHE IS DIRECTIVE IN SUCH A HELPFUL WAY ABOUT WHERE TO SIT AND HOW TO POSITION OURSELVES. TANDY IS A PLEASURE TO WORK WITH! SHE WILL BE THERE TO ANSWER ANY QUESTIONS AND MEET YOU NEEDS IN ANY WAY SHE CAN. WE HIGHLY RECOMMEND THIS COMPANY FOR ANYONE LOOKING FOR PROFESSIONAL, BEAUTIFUL PHOTOS."
"TANDY WAS THE PERFECT PHOTOGRAPHER FOR OUR ENGAGEMENT PHOTO SHOOT! THROUGHOUT THE WHOLE PROCESS SHE WAS OPEN TO OUR IDEAS AND REALLY MADE US FEEL AT EASE. AFTER THE SHOOT SHE GOT US OUR PICTURES BACK WAY FASTER THAN WE THOUGHT SHE COULD. AND THE PICTURES TURNED OUT AMAZING! THE SHORT OF IT IS THIS; ROSEMARY & PINE PHOTOGRAPHY IS AFFORDABLE, EASY TO WORK WITH, AND THEY DO FABULOUS PICTURES. THANK YOU TANDY!"
"TANDY HAS BEEN EXCELLENT TO WORK WITH! NOT ONLY ARE BOTH HER AND HER HUSBAND SIMEON PROFESSIONAL AND TALENTED, BUT THEY ARE FUN AND EASY GOING AS WELL! I WAS SUPER NERVOUS ABOUT OUR ENGAGEMENT SESSION, BUT DESPITE MY NERVES AND AWKWARDNESS, TANDY PRODUCED EXCELLENT PHOTOS THAT TRULY CAPTURED THE LOVE BETWEEN MY FIANCE AND I. SO LOOKING FORWARD TO HAVING TANDY SHOOT OUR WEDDING THIS FALL."
"Our experience with Tandy and Simeon literally couldn't have been better! They are such kind and easy going people. If you're anything like me and feel anxious about getting in front of the lens.. don't. They made us feel so comfortable. I got our photos and my jaw dropped. They are better than I imagined!! I'm so excited for them to shoot our wedding next year!"
"Tandy did mine and my Fiancé's engagement pictures at the beginning of the summer, and we were truly blown away. This was our first time doing professional photos together as a couple, and Tandy and Simeon made the shoot effortless and fun! Every shot was so beautiful, we were thoroughly impressed. Within days, we already had several of the photos framed in our house after our gallery was given to us. (: Both of them were so easy to work with and always made us feel comfortable. No awkward poses which is a big plus to my man! We love Rosemary & Pine and would recommend them to anyone who wants beautiful memories that are timeless!"
"WE WERE ABSOLUTELY IN LOVE WITH OUR EXPERIENCE FROM BEGINNING TO END. TATIANA GAVE US THE PREFECT AMOUNT OF DIRECTION AT THE SESSION TO MAKE US FEEL COMFORTABLE AND IN LOVE. WE HAD SO MUCH JOY GETTING THE GALLERY EMAIL AND GOING THROUGH EACH ONE OF OUR IMAGES TOGETHER I WILL SAVOR THEIR SWEETNESS FOR A LONG TIME TO COME, AND ENJOY EVERY SINGLE ONE OF THEM FOREVER. THESE ARE JUST SO SPECIAL TO US, THANK YOU!!"!"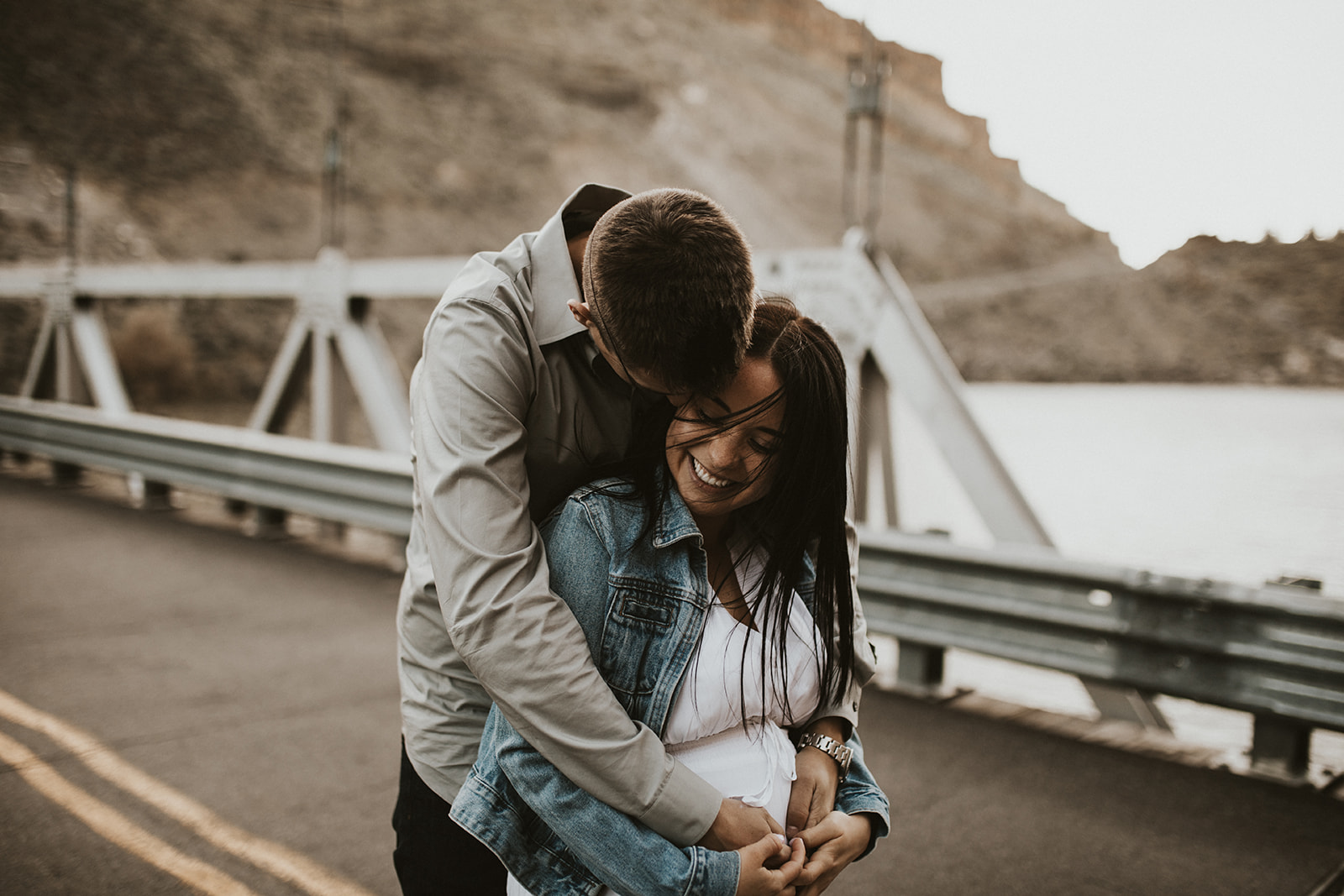 "MY FIANCÉ AND I HAVE NOW DONE TWO SHOOTS WITH TATIANA. THE FIRST ONE WAS FOR OUR GRADUATION PHOTOS BUT WE LOVED THEM SO MUCH THAT WE KNEW AS SOON AS WE GOT ENGAGED THAT WE WOULD HAVE TO HAVE HER DO OUR ENGAGEMENT PHOTOS AS WELL! SHE SURPASSED OUR EXPECTATIONS (YET AGAIN) AND WE NOW HAVE TONS OF AMAZING PICTURES TO CAPTURE THIS TIME WITH. WE BOTH ARE A LITTLE CAMERA SHY BUT TATIANA DID A GREAT JOB AT MAKING US COMFORTABLE AND THUS BRINGING OUT MORE NATURAL LOOKING PHOTOS. I WOULD HIGHLY RECOMMEND HER SERVICES."